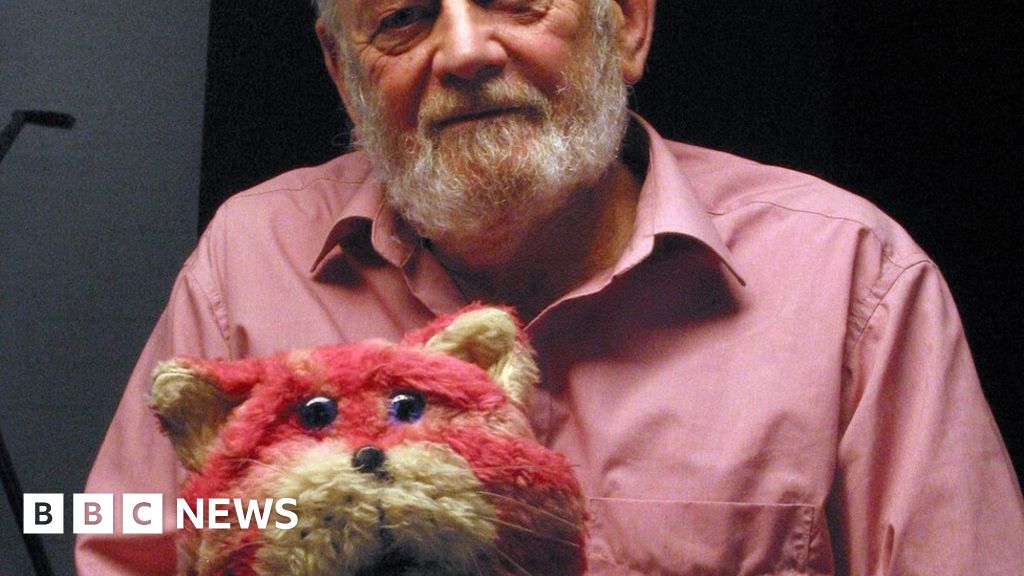 Peter Firmin, the co-creator of Clangers, Bagpuss and Basil Brush, has died at the age of 89, it has been confirmed.
Mr Firmin also helped create other classic children's shows such as Ivor the Engine and Noggin the Nog.
He died at his home in Kent after a short illness, Clangers production company Coolabi said.
Mr Firmin received the Bafta Lifetime Achievement Award in 2014.
He leaves behind his wife Joan, six daughters and numerous grandchildren and great grandchildren.
A statement from Coolabi said: "During a career spanning over six decades Peter worked with great skill in a remarkably wide variety of creative disciplines as a fine artist, craftsman and author.
"Of all his work he will probably be most fondly remembered for the characters he co-created and made."
Mr Firmin worked with Ivan Owen to create Basil Brush; and Oliver Postgate on Bagpuss, Clangers, Ivor the Engine, Noggin the Nog and Pogles Wood.
In 1999, Bagpuss was voted the most popular BBC children's programme ever made.
The Coolabi statement said: "Peter continued to work with great enthusiasm on creative projects right up until the beginning of 2018, most notably on a new series of Clangers, which won a Bafta in 2015."
Fans of his work have been paying tribute on Twitter.
Robert Hanks said: "Is there anybody in Britain whose childhood wasn't improved by Peter Firmin?"
Andrew Douglas said Mr Firmin and his collaborators "defined a generation" with their programmes while Tim Chipping said the artist was a "most magical man".
John Terry said Mr Firmin was a "bringer of joy" while Pam Slingsby called him: "A little known hero who filled my childhood with wonder."
Walter Dunlop said the Mr Firmin and Mr Postgate were a "little oasis of kindness", adding: "Whenever I feel lost, scared or just in need of a little escape for a few minutes, their work will usually do it for me."
In 2016, in an interview with the BBC at the unveiling of an exhibition of his work, Mr Firmin said of his relationship with Mr Postgate: "He wrote and imagined things and I brought them to life as pictures."
He said: "We sometimes disagreed, but generally we agreed in the end as we had the same sort of taste and, also, we both rather liked the idea of gentle stories where there was no aggression really and everyone was rather happy, gentle and content."
Mr Firmin revealed that Bagpuss, who starred in 13 episodes in 1974, was supposed to be a marmalade-coloured cat but an error at the fur-dying company saw him become pink instead.
Mr Firmin's wife Joan made Bagpuss' paws and knitted the original Clangers, while their daughter Emily played Bagpuss' owner.